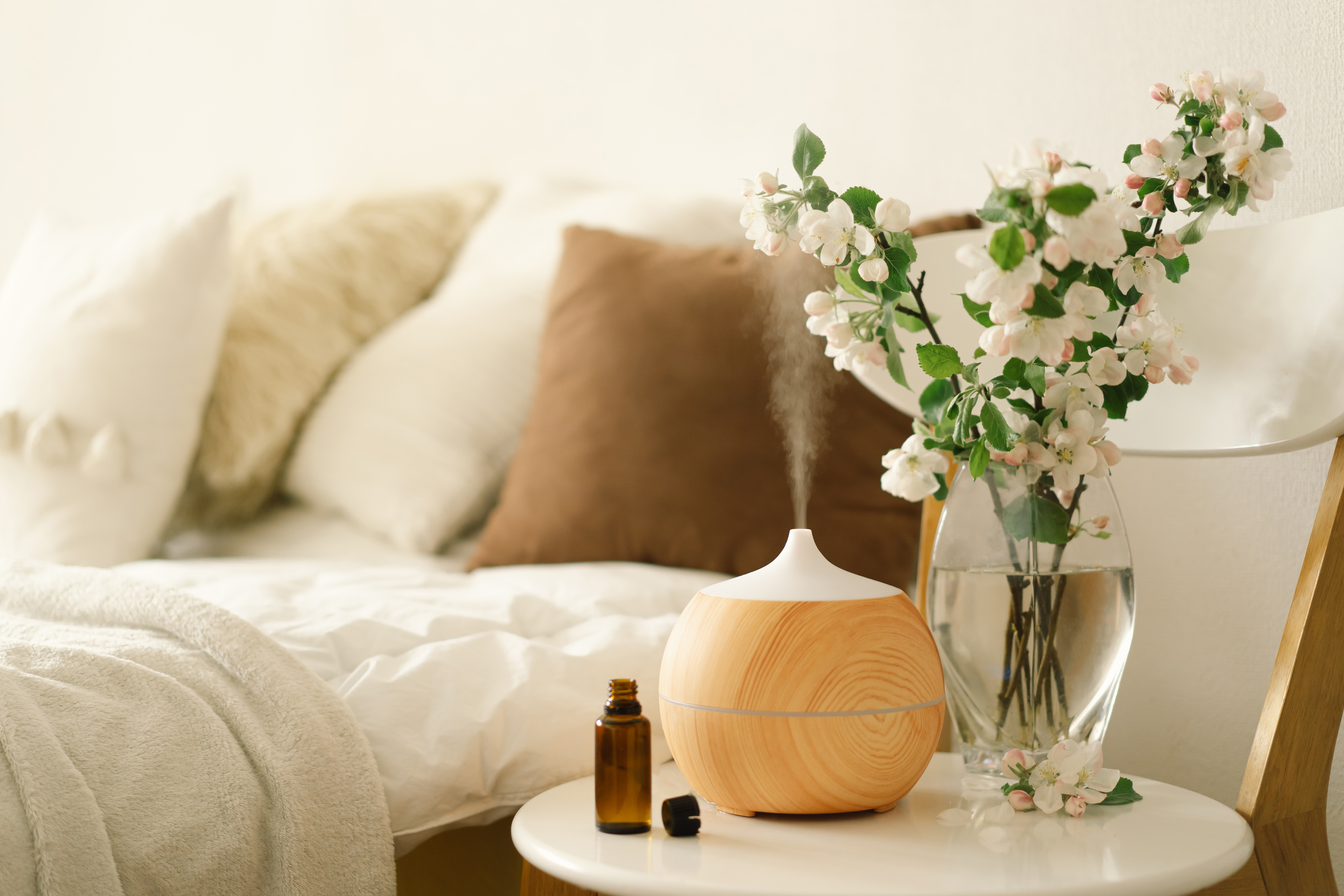 THE VERSATILITY OF ESSENTIAL OILS BRINGS A NATURAL APPROACH TO MANY DAILY FUNCTIONS AND NEEDS.
Not too long ago, you could only find essential oil products in specialty stores, but now they're used in a range of products, from supplements to laundry detergents.
Essential oils might seem like a new trend since they're now found in products everywhere!
Depending on your needs, they can add aromatherapy benefits to calm or invigorate. They can be used to deodorize your home or work as a natural air freshener. Their versatility brings a natural approach to many daily functions and needs.
These aromatic and therapeutic compounds found in plants can be derived from flowers, stems, leaves, roots, bark, and even peels.
Essential oils have amazing and wide-ranging properties. It's challenging to choose between them, but over the years, we've found that having five key oils can pretty much cover any essential oil need.
Here are our New Leaf Wellness Expert picks for the 5 Essential Oils that are must-haves in any home.
1. Lavender Oil
Perhaps the most widely recognized essential oil, the sweet floral aroma is unforgettable. Lavender oil has an almost immediate calming and relaxing effect when added to a diffuser or a pillow mist. It may promote better sleep and relieve anxiety & stress. For those seeking relief from migraines and headaches, combining it with peppermint oil and applying it to the neck and temples can be helpful. It also serves as a first aid remedy to soothe burns and wounds.
2. Frankincense Oil
Often called the "King of All Oils," this oil is powerful and incredibly therapeutic. Frankincense oil has been used to help relieve chronic stress & anxiety, reduce pain and inflammation, and boost immunity. It can also be combined with lavender oil or coconut oil to make an excellent skin moisturizer.
3. Rosemary Oil
Rosemary oil has been used to encourage focus and attention. Recent studies have shown it can support some types of tissue healing and boost brain function. Its woody, evergreen-like aroma is very grounding. Rosemary oil has been used to thicken hair, and new studies suggest it may also help relieve muscle aches, pains, and soothe respiratory conditions.
4. Peppermint Oil
The oldest European herb used for medicinal purposes, peppermint oil provides a cooling sensation and has a calming yet invigorating effect on the body. It may help with relieving muscle pain or sore muscles – simply dilute 2-4 drops of peppermint oil from a trusted brand into your lotion and apply directly to your aches. It also helps relieve headaches, nausea, and vomiting while promoting mental focus.
5. Eucalyptus Oil
This oil has been found effective in reducing pain, swelling, and inflammation. It may help ease respiratory conditions, infections, and reduce earaches. Because of its antimicrobial and antiseptic properties, it can serve as a first aid remedy for skin irritation and insect bites.
You can enjoy the benefits of essential oils in various ways. Stop by any of our New Leaf stores and ask our Natural Living Team for advice or about their favorite essential oil combo! Every week, we feature a new essential oil combo using our in-store diffusers.
As we all take steps to improve our health and well-being, we inspire others and give them permission to do the same. Living healthily improves our lives on a micro level and also helps us contribute to improving our environment, our communities, and our world in ways we might not always imagine.
Shop for Products